Photo: Olesya Kuznetsova / Shutterstock
DENMARK: From hot dog stands to Michelin starred restaurants, a trip to Copenhagen is not complete until you've sampled and savoured the local delicacies. Wild berries, Fiskefrikadeller (fish cakes), Smørrebrød (open-faced sandwiches) and Frikadeller (meatballs) and just some of the Nordic dishes you can expect to find on the menu when visiting the Danish Capital.
Visitors to Copenhagen can enjoy "Nordisk Mad" (Nordic food) all over, as a new wave of Danish Chefs and Cooks increasingly turn their attention to Scandinavian products and traditional recipes which had all but been forgotten. And what produce they have to pick from as the oceans in the north provide seafood connoisseurs with plenty of oysters and prawns and fresh fish varietals.
This creative and tasty cuisine burst onto the world's stage fairly recently when the two Michelin-starred Noma - widely regarded as one of the best restaurants in the world - started blending traditional ingredients in super creative ways through their 'New Nordic Cuisine'. Lucky for us it's here to stay.
Smørrebrød and Fish
When visiting Copenhagen, you should definitely try Smørrebrød. Generously buttered bread is topped with a veritable feast of fish, meat, prawns, cheese and other delicacies. For traditionalists, you'll find this dish served in restaurants such as Slotskælderen or Schønnemann.
For the more adventurous eaters, Smørrebrød has been reinvented at Aamann's Deli where, you'll find adventurous combinations such as braised pork belly with rhubarb, mustard cream, thyme and bacon crumble. And, if you want to share the love with friends, Told & Snaps restaurant serves more than 40 different variations of Smørrebrød - covering everything from traditional to modern.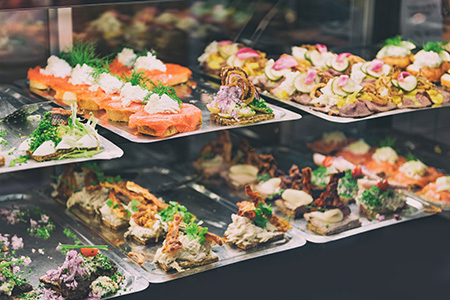 Photo:  Maridev / Shutterstock.com
Fish balls and dishes featuring herring or plaice are amongst the classics when it comes to Danish cuisine. Stjerneskud (shooting star) - a type of Smørrebrød with breaded fillets of fish and prawns and served with a salad garnish - is another favourite. Seafood lovers can eat an ocean catch at Kødbyens Fiskebar, in the Vesterbro District. Today, cool industrial design dominates this former fish hall and cooks whip up light and creative delicacies featuring freshly caught seafood served with berries, herbs or rye bread.
Fit for a Royal!
Royal Copenhagen is a cultural and a culinary institution, combining the best of Danish food and design. The stylish Royal Smushi Cafe, in the heart of the city, has a quiet terrace in its interior courtyard that's perfect for savouring a meal. Smushi serves a combination of Smørrebrød and sushi, typical fish dishes (such as fish balls or smoked salmon) combined with delicious snacks and a seemingly never-ending array of exquisite homemade cakes and tarts. And, as you'd expect, all food is served on the finest Royal Copenhagen porcelain.
Organic Pølser from a Sausage Truck
If you're pressed for time,  Danish fast food is prolific in the inner-city. Keep your eyes peeled for their mobile Pølsevogn (sausage trucks). Pølser - red frankfurter sausages - are served in a roll with roasted onions (as a kind of hot dog) and deliciously dressed in mustard, ketchup, mayonnaise and pickled gherkins. You can also find all kinds of Danish organic sausage specialities at Claus Christensen's on Rundetårn and at the Church of the Holy Ghost on Amagertorv. It therefore comes as no surprise that his food stand is called DØP: "Den økologiske Pølsemand" ("The Organic Sausage Man"). 
To Market, To Market
Pop over to the Street Food Market on Refshaleøen to try scrumptious delicacies and street food from all over the world. More than 40 food stalls and snack kiosks are spread through two warehouses in Copenhagen's port district, offering all sorts of international cuisine alongside Danish regional delicacies. For traditionalists, there's a cool variation on English fish and chips - served with mushy peas and fresh vegetables.
When your belly is full and your body is wary, head back to the Adina Apartment Hotel Copenhagen and soak up that Australian-style hospitality. Individually designed studios, all the hotel amenities you'd expect from a four-star hotel, and spacious rooms complete the experience. And, when you're ready to eat again, head to the Storehouse Copenhagen, conveniently located in the hotel, for a light or hearty meal.