"Which side of the Danube would you like to be on, Buda or Pest?" Peter, the patron saint of bookings, asked, when he was planning our itinerary. He had never been to Budapest, and it had been more than a decade since my last visit, so we sat down together at the computer and poured over the map of the city on Google Earth.
"Our hotel in Budapest has to be centrally-located, but in a quieter location away from the noise of city traffic," I explained. "According to the weather forecast, it's going to be 30 or 40 degrees C when we're there, so we had best look for a place with a pool," I added. "Okay," he said, "How about the Adina?"
On first glance, the Adina seemed a little bit further away from the CBD than I might have liked – although, admittedly, it is hard to gauge distances on a screen. That said, we have stayed in TFE Hotels previously,  at The Rocks and Surry Hills in Sydney, and in the Adelaide CBD (all of which were excellent). With this in mind, I knew that the Adina Apartment Hotel in Budapest would be more-than-adequate for our needs.
Browsing the hotel's web site and an assortment of images on Google confirmed my thoughts. It looked and sounded great. The deal-breakers being that we would have the luxury of a self-contained, serviced apartment for over a week; as well as being able to enjoy facilities such as the lap-swimming pool, sauna, spa and gymnasium.
Having spent several weeks criss-crossing the United Kingdom, (where we'd stayed in a series of hotels old and new, mostly with, dare I say, pokey little rooms), Peter and I arrived at the Adina in Budapest. We were busting to spread our wings, so you can imagine our delight when we opened the door and stepped into a spacious (huge!) one-bedroom apartment. Best of all, the property was stylishly furnished with neutral decor, and it was immaculately clean.
The one-bedroom king or twin apartments at the Adina range from 50-70 square metres in size and include a full-sized kitchen with hotplates, oven and dishwasher; generous lounge and dining area with a study corner; a large balcony with great views of the surrounding architecture; bathroom with a bathtub and separate shower cubicle, as well as a laundry tub and washing machine/clothes drier tucked inside a wardrobe.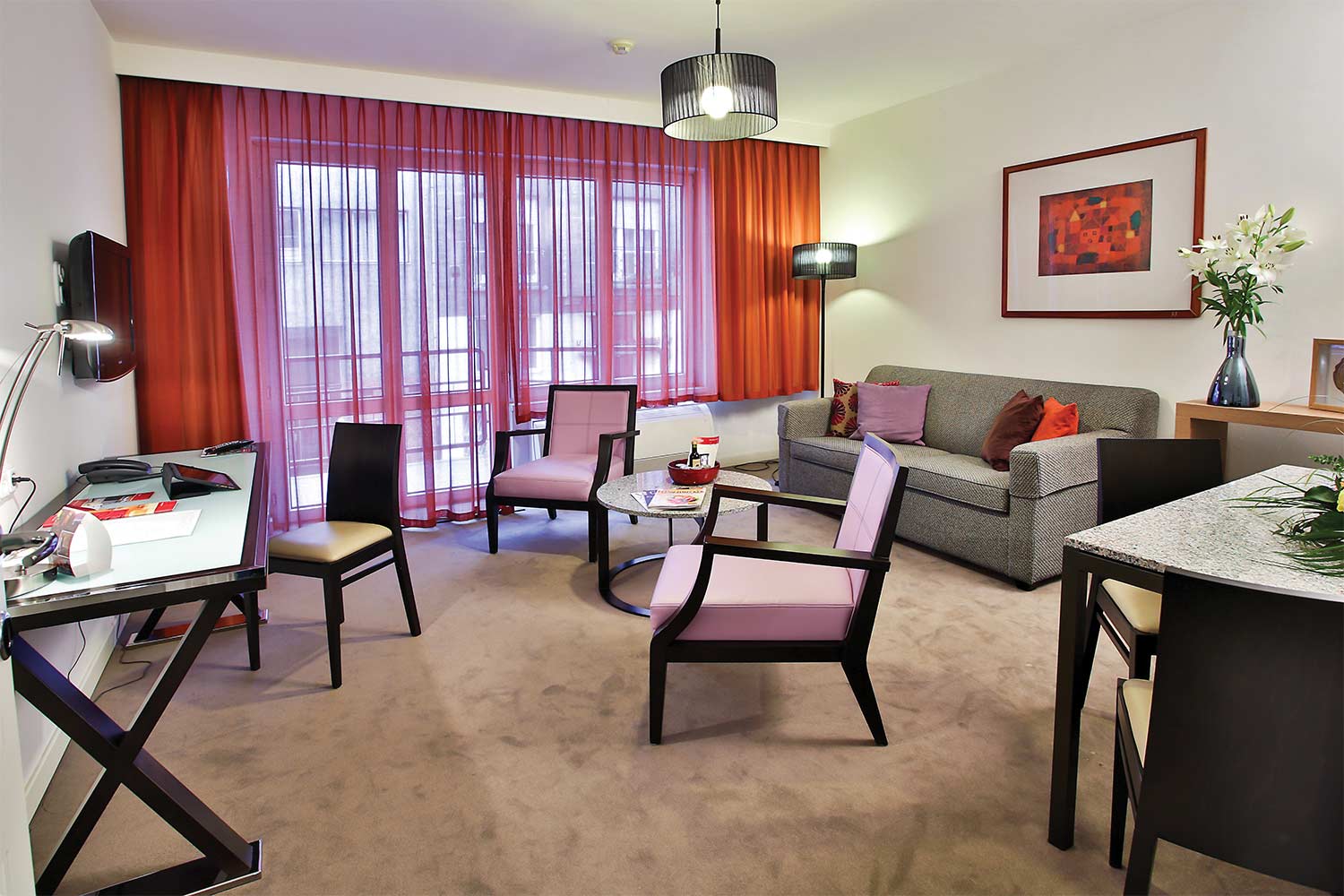 A bonus is that there's a separate WC (or toilet, for those too young to understand what I mean). And there was a flat-screen TV in both the living room and the bedroom, meaning that we could lie in bed and catch up on the evening news.
Having a full-sized kitchen enabled us to prepare breakfasts, and most of our evening meals on site, rather than dining out every night. And, with a fresh food market just a five-minute walk from the hotel, this travelling cook couldn't really want for more. The hotel also offers a convenient valet service, and will stock the refrigerator with groceries on request.
We enjoyed restful sleeps during our stay, thanks to the quiet surroundings of the hotel, and we were not disturbed by housekeeping at any time. In fact, on day one we advised the staff that there was no need for them to make the bed or clean the kitchen and bathrooms after us, as we were more than happy to do that for ourselves. Although they checked with us whenever they saw us in the hallway, the housekeeping ladies were good enough to oblige with our wishes and simply exchanged fresh towels for used ones, as needed.
When you've been sightseeing all day, one of the best ways to stretch out and loosen up the body is to swim a few laps. In addition to the 17-metre swimming pool at the Adina in Budapest, there's also an outdoor terrace, and a sauna/steam bath and jacuzzi spa, together with a well-equipped gym. An attendant greets you at the entrance, notes your room number and hands over a robe and pool towels.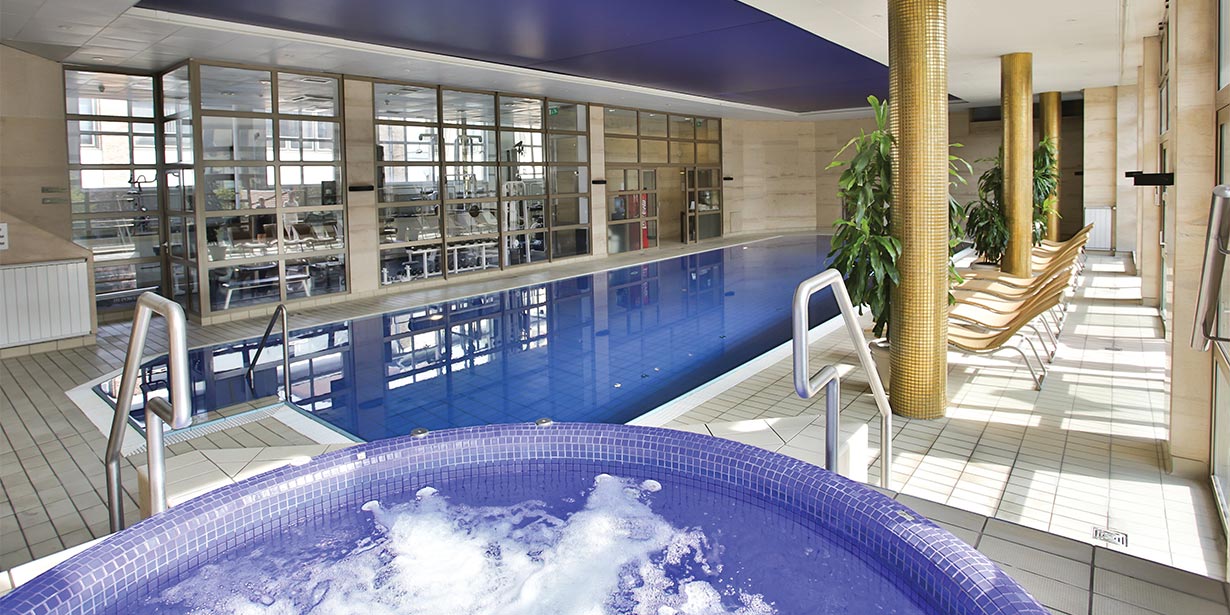 During our stay, we made good use of the paved courtyard gardens, which provided a quiet retreat in which I could sit and write my journal while Peter read his book. The hotel's bar is within easy access, making the garden the perfect heaven at "beer o'clock". As with the rest of the property, everything here is immaculately maintained.
Tea and coffee is provided free-of-charge in one part of the hotel's spacious lobby, which leads out the central courtyard. Breakfast is served in a dining room just around the corner (for an additional cost). Parking is available in the underground garage and costs around 4,100 HUF ($18.50 AUD) per night per vehicle.
Hotel Manager, Angéla Gergye, and her team go out of their way to ensure that guests at the Adina receive the utmost in service and attention. Peter and I were  made to feel welcome at all times, and we will most certainly stay at the hotel again in the future.
Contents extracted from article written by Liz Posmyk. Read the rest of article at www.bizzylizzysgoodthings.com