From your apartment base, you will have access to all of Sydney's best attractions. Many big name entertainment venues are nearby, with Moore Park, Sydney Cricket Ground, Horden Pavilion and Randwick Racecourse all easily accessible by car or public transport.
Chic boutiques, vintage shops, bohemian cafes, pubs, clubs and bars dominate the local landscape of Surry Hills, with the suburb home to some of Sydney's most iconic streets and best entertainment options.
From Adina Apartment Hotel Sydney Surry Hills, you can stroll to a myriad of cafes and restaurants at any time of the day or night. For a taste of modern Australian cuisine, the revered Bill's is only steps away from the hotel.
Other nearby gems include modern Italian restaurant and cocktail bar Bartolo, the Middle Eastern-inspired Nomad, Mark & Vinny's for spaghetti with a spritz, Cuckoo Callay for Antipodean breakfasts and Toko Sydney for a contemporary spin on Japanese cuisine.
As well as an array of eating options, Surry Hills is famed for its charming pubs. You will find The Clock nearby, the area's most iconic pub. The Dolphin Hotel is conveniently situated opposite the property, and the Dove & Olive is an elegant pub touted as one of the best in Sydney.
Featured Venue
---
A hop, skip and a jump from your room, bills Surry Hills is the perfect spot to start your day. Sip a delicately crafted coffee while munching on bills famous ricotta hotcakes.
Can't make it for breakfast? Don't worry, bills is also open for lunch and dinner, meaning you can enjoy the bills experience any time of day.
Opening Hours:
Bill's is open 7am to 9.30pm, seven days a week.
Contact Us:
Bills Restaurant - Surry Hills
359 Crown Street, Surry Hills, NSW 2010, Australia
+61 2 9360 4762
bills.com.au/our-story
Other Drink & Dine Venues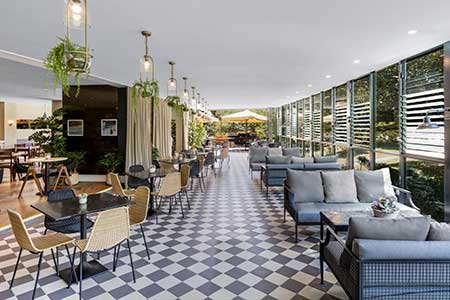 Storehouse Sydney Rushcutters Bay
Storehouse Sydney Rushcutters Bay is a tranquil indoor and outdoor restaurant, serving wholesome meals made with local produce and delicious drinks.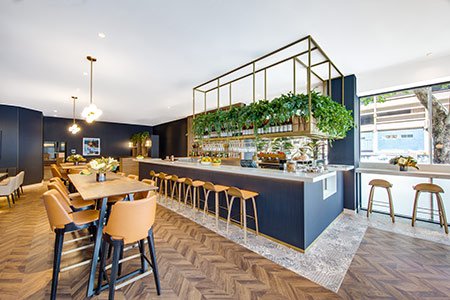 The new Storehouse Sydney Central Café and Bar is a social place for people to eat, relax, meet or just switch off, offering excellent coffee, delicious share plates, fantastic salads and sandwiches and a great wine list.
---