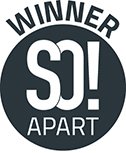 Winner of SO!APART Awards 2018 in "Grand and Great – Aparthotel" category
Leipzig's central station, Leipzig Hauptbahnhof, is minutes away from the conveniently located Adina Apartment Hotel Leipzig, in the former Brühlpelz tower. Right in the middle of the historic town, the hotel is the ideal starting point for your discovery tours through this Saxon metropolis. Experience decadent art, local culture and the famously accommodating Leipzig hospitality while visiting the numerous mouthwatering restaurants and lively bars just around the corner... show more
Comfortable and elegant apartments with warm wood tones and anthracite accents are conveniently equipped with a kitchen, laundry and separate living areas. The Adina Apartment Hotel Leipzig is the only place to stay. Offering 166 spacious studio rooms and one bedroom serviced apartments, you will be delighted by the fully equipped kitchen, in-room laundry and spacious separate living areas.
With a gym to work out in, or a luxurious indoor heated pool for a swim, you can relax amid stylish convenience. Guests can enjoy the option of meeting and conference rooms, along with conference facilities, free WiFi and 24 hour reception, to enable a balance of work and pleasure. Only a 20 minute drive to Leipzig Airport, the hotel conveniently offers onsite parking.
The delicious Alto Bar & Restaurant, is inhouse and services room or restaurant dining for breakfast, lunch, dinner and evening cocktails. Stepping outside the hotel, you will find a vast array of tempting local cafés, restaurants and eateries.
Within easy walking distance you will be spoilt with Auerbach's Cellar, a decadent wine bar and Oper Leipzig, the Leipzig Opera house. For the kids the Leipzig Zoological Garden houses around 800 animals, in as close to their natural habitat as possible. Leipzig Universität, one of the world's oldest Universities and several world-class museums are within easy walking distance of the hotel.
Adina Apartment Hotel Leipzig combines one of the best locations in the city with beautifully crafted modern serviced apartments to provide visitors with an unforgettable local experience.